Partnering up the secret to 150 years of success
GN News
Oct 09, 2019
If you work or exercise with any of GN's headsets, hearing aids, apps or other solutions, you may be familiar with our connections to
Amazon
, Microsoft,
Google
, Apple,
audEERING
, and
Cochlear
. But did you know that right from the beginning, GN was founded on diplomacy and partnerships?
Early royal relationships open up business connections
As we explored in the article Born Global, GN's founding feat of connecting the East to the West transformed global communication. In the film below (scroll to the end), we learn that a key element of the GN success story has been our ability to make strategic use of our connections to bring our ideas into action.
Right back when GN began in 1869, our founder, C.F. Tietgen, leveraged Denmark's royal connection to Russia, via Danish Princess Dagmar's marriage to the heir of the Russian throne, Grand Duke Alexander, to get the permission needed to build telegraph cables across Russia, realizing his dream of connecting the world by telegraph.
Vladivostok telegraph station, in eastern Russia. GN's first telegraph cable, connecting Asia to Europe, ran across Siberia. Permission to land the
cables across Russia was made possible through GN's founder C.F. Tietgen's diplomatic connections

Danish Princess Dagmar married the heir to the Russian throne, Grand Duke Alexander (pictured). She used her position to advance GN and other Danish companies' business interests in Russia
Diplomacy to weather world wars, cold wars and revolutions
Half a century later, when the world map had shifted dramatically after the First World War, and with it, the international telegraph network, it was this same diplomatic expertise that enabled GN to enter telegraph negotiations with newly independent Finland, and Baltic states such as Poland. In the east, after the Russian revolution, the strong foundations of GN's relationship with Russia meant we were the first foreign company to be granted concession by the Soviet government in 1921.
At the end of the Cold War in 1989, GN was again the trusted partner chosen to re-connect Russia with the West, by building a new trans-Siberian fiber-optic transmission line. Danish Prime Minister Poul Nyrup Rasmussen and Russian President Boris Jeltsin opened the line in 1993.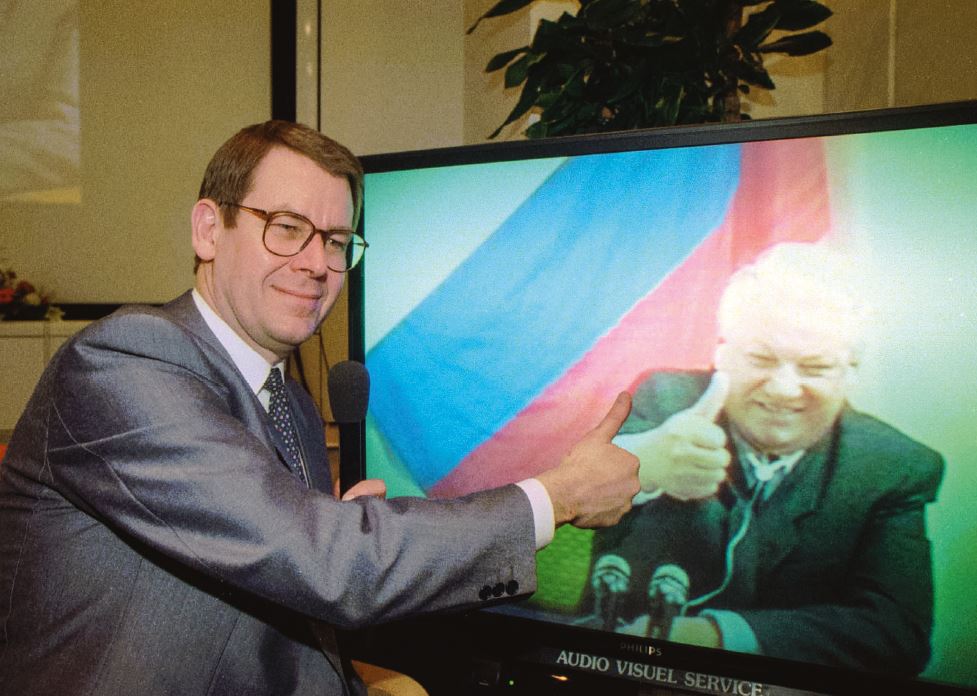 The official opening of the fiber optic cable took place on April 10, 1993, when Denmark's prime minister Poul Nyrup Rasmussen and Russia's president Boris Yeltsin exchanged a thumbs-up via a television link between Taastrup, Denmark, and Moscow, Russia
Today, our royal connections continue to support GN's global success, through our involvement in events such as royal business delegations to Japan, Korea and Italy, where we promote the strong partnership opportunities with Denmark and reinforce existing alliances.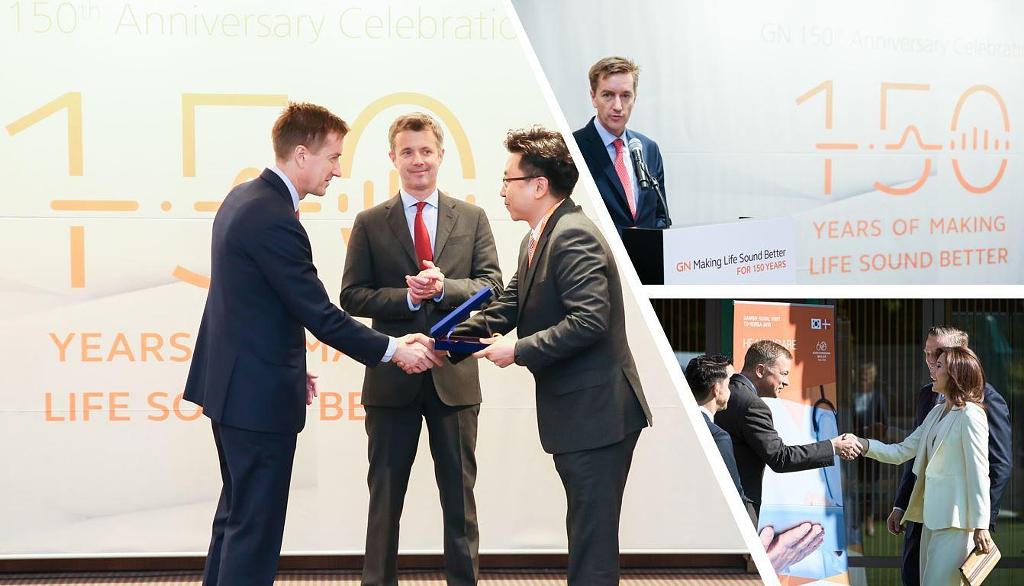 Left and top right: His Royal Highness Crown Prince Frederik of Denmark, Danish Ambassador to Korea Thomas Lehman and General Manager GN Hearing Korea Kenny Kim at the GN 150 Anniversary Award Ceremony in Seoul, Korea. Bottom right: Bjoern Stroemboe Petersen, SVP, International Sales, GN Hearing, and Philip Berg Frederiksen, VP APAC, greet Her Royal Highness Crown Princess Mary of Denmark during the official royal visit to Korea for a large Danish business promotional campaign.
Powerful connections today
Upon this foundation of diplomacy, GN has continued to pursue strategic partnerships that extend our value and in-house capabilities.
Today, this means collaborating with customers and partnering with distributors, startups and other industry leaders. This provides a wide range of expertise and means we can focus on what we do best – intelligent engineering that makes life sound better.
This ranges from working with Apple to launch the world's first Made for Apple direct streaming from iPhones to hearing aids in 2014, and with Google to launch the first direct streaming to Android devices; to implementing audEERING's expertise in artificial intelligence to improve call center productivity; and integrating GN's headsets for businesses with Microsoft's business collaboration tools including Skype for Business and Teams.
And these are only a handful of the many collaborations that mean our comparatively lean business punches well above its weight. Right from the beginning, GN's diplomacy got things done, and since then we have focused on leveraging our own strengths in combination with our partners' expertise, adding up to more than the sum of our parts. For 150 years and still today, it is our strong connections that extend GN's reach into so many markets, countries, businesses, and ears.
Can't get enough history?
Read more articles like this:
Born Global
Celebrating 150 years publicly listed, and every day making life sound better
New ways to keep in touch