Celebrating 150 years publicly listed, and every day making life sound better
GN News
Jun 17, 2019
Technology is at the core of our devices, but it is people who have always been at their heart.

GN's people-centered raison d'être, Making Life Sound Better, was the center of attention at GN's 150th birthday party, held in the grand halls where the company was inaugurated and listed – The Old Stock Exchange – in Copenhagen, 150 years ago. In the video below, see highlights from the event, including GN executive management ringing the bell to close the day of trading at the Copenhagen Nasdaq (pictured above, with Carsten Borring, Head of Listings & Capital Markets at Copenhagen Nasdaq). Then, dig into GN's 20th century milestones to learn how our technology transformed every day life for taxi drivers, emergency workers and even celebrities (and see the short film at the end).
Making daily life sound better
Marking 150 years in business is an opportunity to celebrate not only a century and a half as a listed company, but reflect on the much larger story of what this has enabled us to do for people and for our world.
What we did back when GN was founded is what we continue to do today: we engineer for daily life. Throughout our history and today, GN's innovations make daily life easier and sound better.

Back in the 19th century, as now, few of us are CEOs, world leaders and intelligence chiefs. We live in a house or apartment, drop our children off at school, work in an office, visit the doctor, go on holidays, and so on. We live life. And this is exactly where GN makes the biggest difference.
Baby, you can drive my car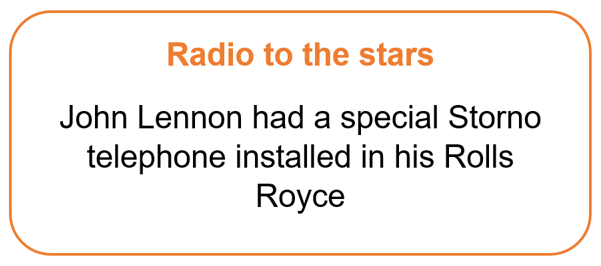 Fast forward from GN's global beginnings in 1869 to the mid-20th century.
In 1949, commuting by car just became a lot more interesting, when GN company Storno introduced its first commercial car radio telephone.
At 29kg, it was considered 'compact' at the time, and it could be mounted under the dashboard of a car.

When it was presented at the Industrial Exhibition in Forum, Copenhagen, there was "only praise for the excellent results Great Northern's talented engineers have achieved," according to the Danish Radio Industry (Dansk Radioindustri) newspaper.
But the new car radio telephone was not just for fun. It transformed taxi drivers' workdays. Instead of waiting by a stationary taxi phone in the street for a call from the taxi bureau, drivers could now receive call outs while driving, via Storno's car radio telephone. Then, as now, GN made life easier and more efficient, enabling taxi drivers to have more flexibility in their workday.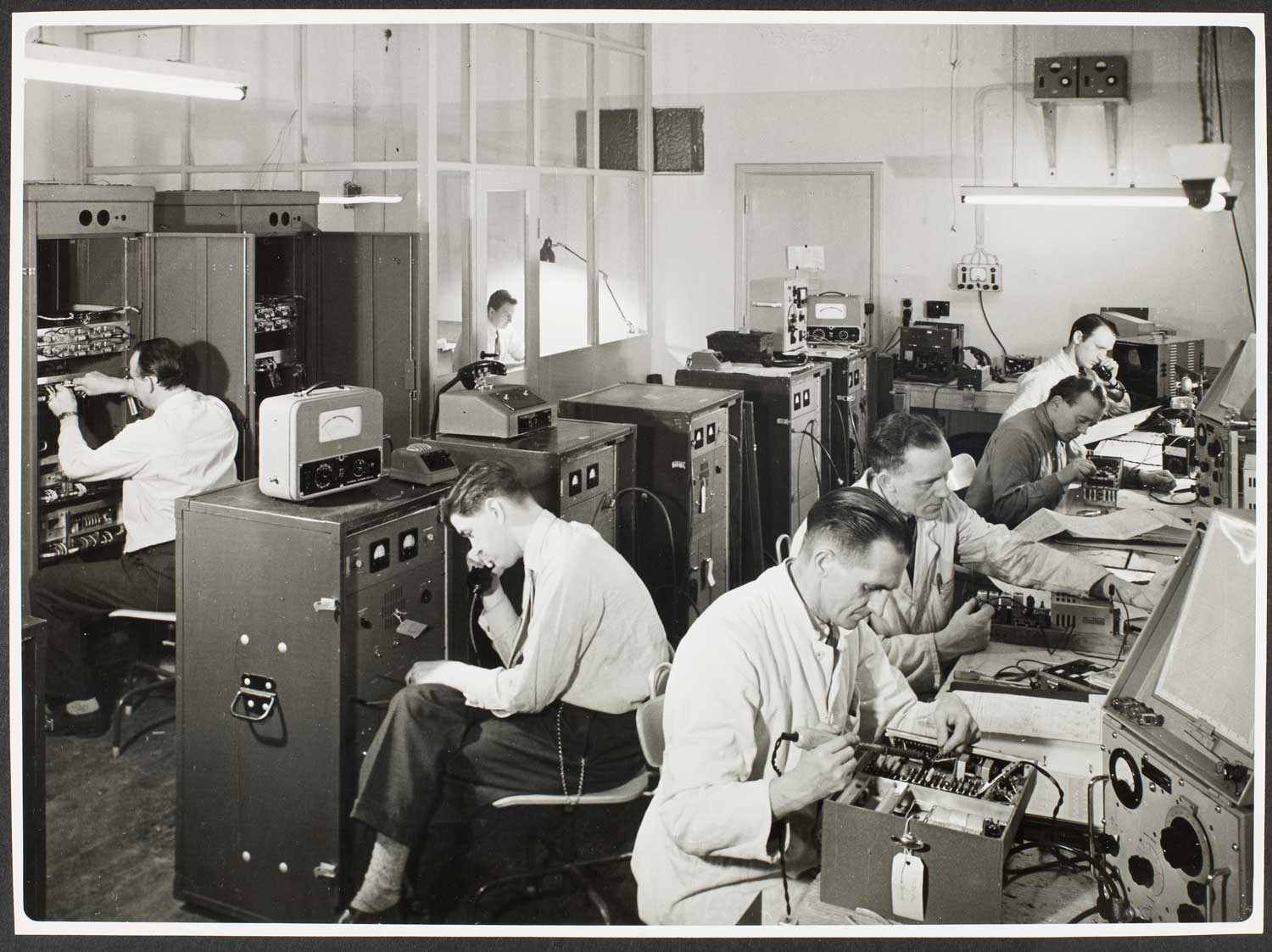 Final testing at Storno
Lifesaving radio telephones
It was not only taxi drivers whose workday changed – for the better – because of Storno's innovations. Building on its mobile radio technology, Storno was the first to engineer mobile radio telephones – a predecessor to the mobile phone – which created a two-way connection between a stationary mother station and mobile units, or between the mobile units themselves.
By the 1960s, Storno's mobile radio telephones were used by essential services including the police, hospitals, fire brigade, Copenhagen's Kastrup airport, and even at the 1972 Munich Olympics. In emergencies, take offs and landings, and major world sporting events, GN has had a key role in supporting people in their everyday work.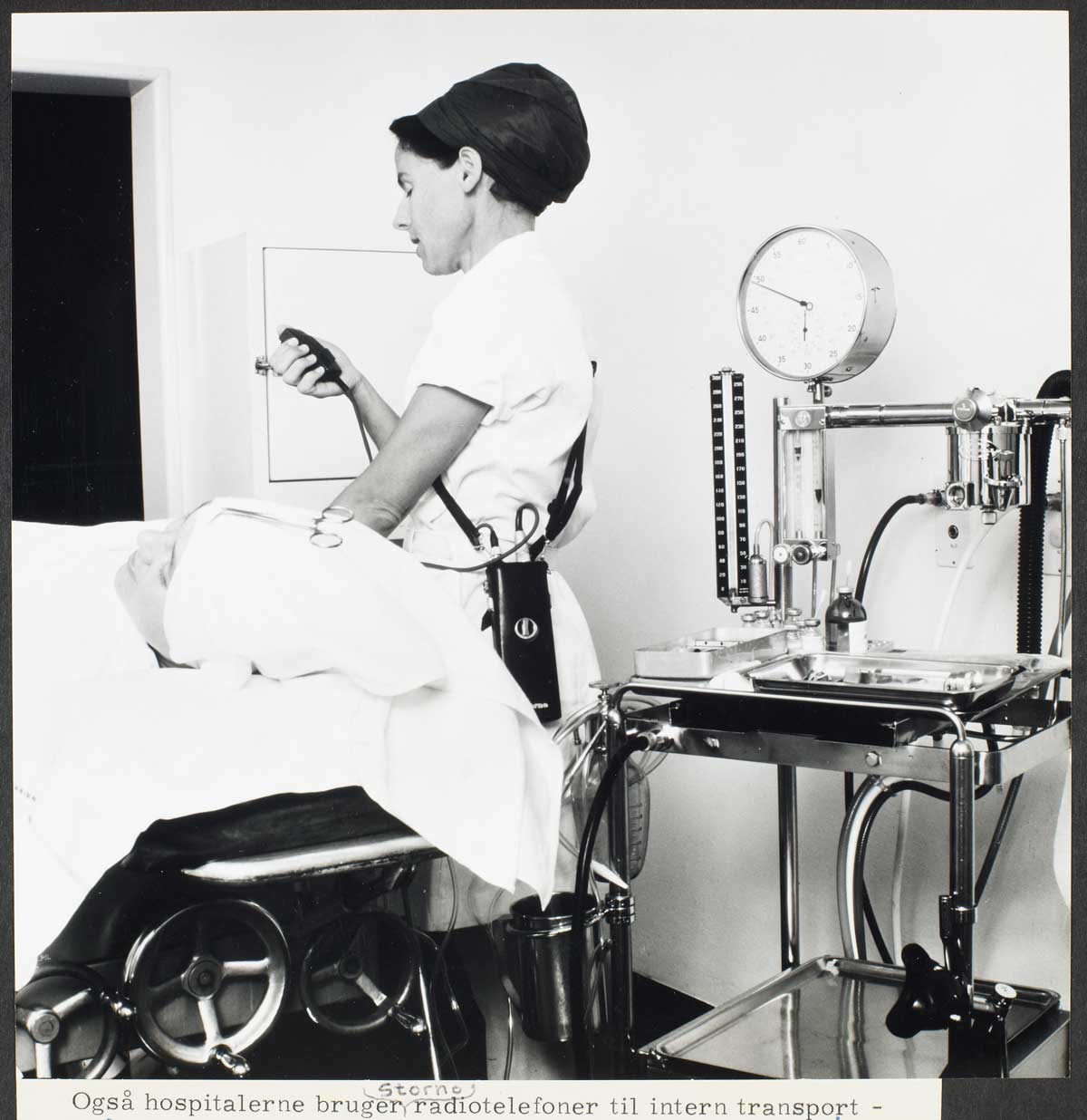 Storno in use at hospital
While the story of GN is a grand tale and our ambitions will always be high, the reason we labor each day is concrete and purpose-filled: we make a difference in people's everyday lives. Our tale of connecting continents, negotiating diplomatic agreements and clocking up countless world-firsts has at its core our purpose of making the communication of everyday life easier for the people and businesses who use our products.
Uncover more milestones in GN's heritage here.