Building the technology of the future, sustainably
At GN, we are proud of the positive difference our products make to society and people's lives. Our hearing instruments help our users lead better lives, while our audio and video solutions help our customers choose remote collaboration over carbon-emitting travel. At the same time, to ensure our future is as bright as our past, we continuously work to address environmental, social and governance (ESG) issues across our value chain.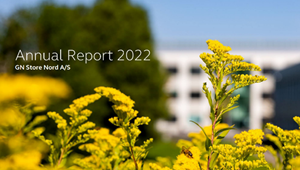 GN's sustainability strategy is driven by a desire to create real and lasting value for all our stakeholders. Therefore, sustainability is integrated into how we run our company, as a consideration in every decision we make.
As sustainability is increasingly integrated into GN's fundamental business strategy, for the financial year 2022, GN combines our reporting on financial and ESG performance in a single publication. This provides our investors and other stakeholders with a holistic view of GN's business, value drivers, strategy, governance, and financial and non-financial performance.
Click here for GN's 2022 integrated Annual Report
Click here for the 2022 GRI table





Click here for our Sustainalytics rating
Responsible Business Alliance statement
As an Affiliate Member of the Responsible Business Alliance (RBA) for our GN Audio A/S business division, GN fully supports the vision and goals of the RBA:
Vision: A coalition of companies driving sustainable value for workers, the environment and business throughout the global supply chain.
Mission: Members, suppliers and stakeholders collaborate to improve working and environmental conditions and business performance through leading standards and practices. We commit to progressively align its own operations with the provisions of the RBA Code of Conduct and to support and encourage its own first-tier suppliers to do the same. Wherever possible, we will seek to adopt the RBA approach and tools in practical ways in the spirit of the industry's common goals.