A grand and daring project: How risk-taking and determination secured a company for 150 years
GN News
Dec 16, 2019
Retrace the twists and turns through wars, revolutions, technology shifts and the "bloody turnaround" in GN's dramatic history
"GN was founded on sending out ships without knowing exactly what they would encounter along the way. I like that this company is willing to support innovation and possible disruptors, even if the leadership don't fully understand these new technologies themselves yet. It is one of the things that has attracted me to GN for so long."
Andrew Dittberner, VP, Research, GN Hearing
Right from the start, GN was founded on a grand and daring project: laying telegraph cables in deep oceans and across continents, to build the world's first telegraph connection from Asia to Europe. There were high seas, difficult trade negotiations, and big risks. From the very beginning, the stage was set for a bold adventure.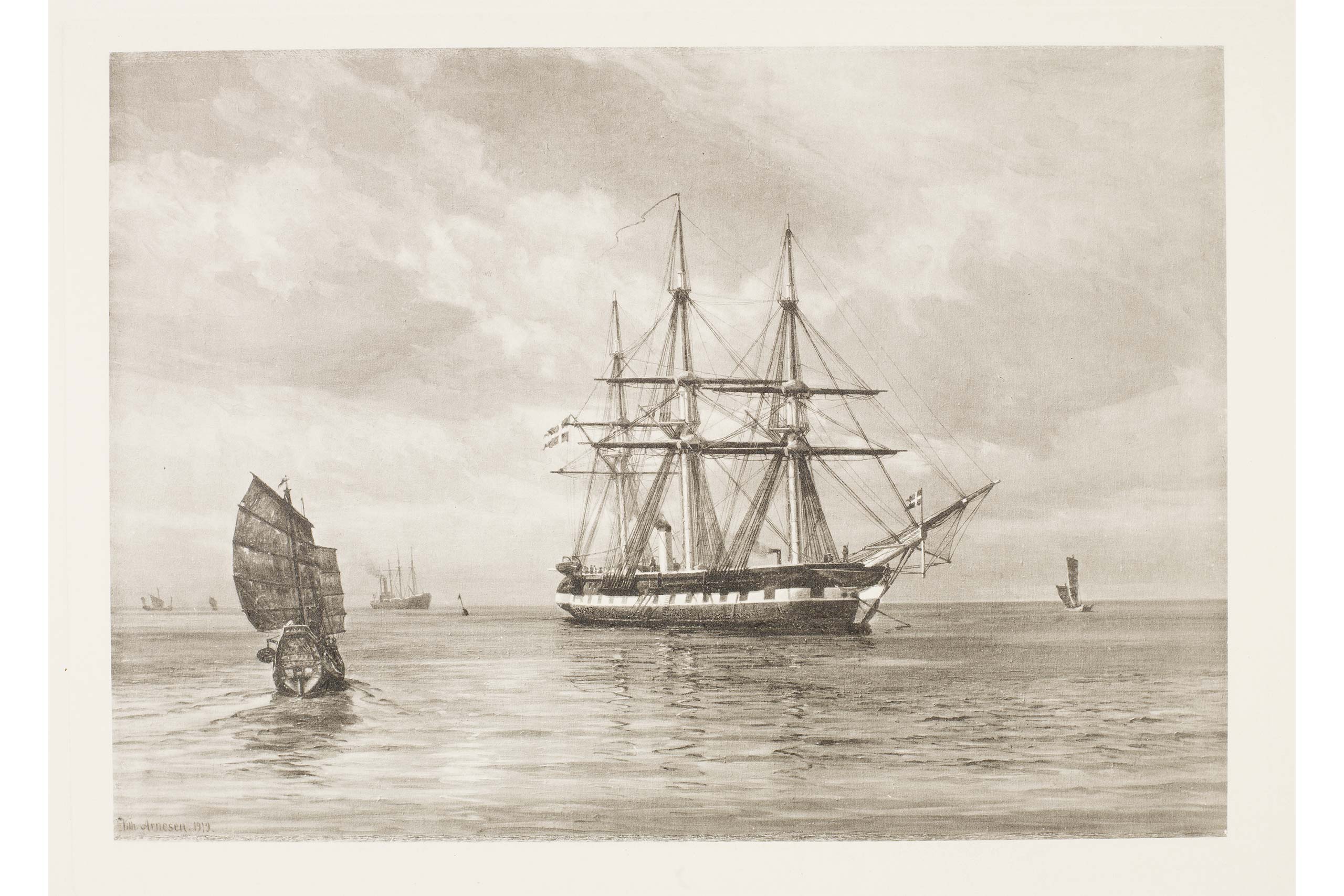 "GN was founded on sending out ships without knowing exactly what they would encounter along the way." A drawing of the Tordenskjold ship, which set out to lay the first submarine cables in Hong Kong
Wartime disruptions lead to new industry expansion
After the First World War and Great Depression, British and American companies took market share and overall telegraph volumes decreased, leaving GN's revenues dwindling. The board had to seriously consider whether the company could be viable in the future.

Then, when Nazi troops invaded Denmark in 1940 and the Soviet Union in 1941, all of GN's telegraph connections were disrupted, except the line between Denmark and Germany.

Determined to persevere, GN sought to future-proof itself by investing in new industries, including acquiring Hellesens batteries (now Duracell), telephone manufacturer GNT Automatic, and venturing into a new technology from the United States: FM radio.

In a meeting we might imagine between entrepreneurs and investors in Silicon Valley today, two Danish engineers, Erik Petersen and Svend Falck Larsen, presented to GN a proposal for a new Danish radio manufacturing business. Storno was born, and GN embarked on a new direction into the future of communications technology. Read about Storno's car radio telephone (including the one made for John Lennon) and mobile radio telephones in Celebrating 150 years publicly listed, and every day making life sound better [Article].
| | |
| --- | --- |
| Hellesen's battery factory in Køge, Denmark | GNT Automatic's coin operated telephone |
By the late 1960s, Storno had acquired 30 per cent of the European market, established subsidiaries in Sweden, Germany, and the United Kingdom, and become the world's fourth largest producer of car telephones.
GN embarked on a new direction in the field of communications by establishing Storno, a leading producer of car radio telephones and mobile radio telephones
Dot-com drama at the turn of the century
The late 1990s saw acquisition after acquisition, including the merger of GN's hearing aid business Danavox with American-born ReSound, now GN's premium hearing device brand. In 2000, GN acquired Jabra, the largest provider of advanced headsets for cell phones in the US, while in the same year it sold its stake in mobile telephone company Sonofon to Telenor.
Against the backdrop of years of growth and share price increases in the information, communications and technology sector, GN prepared to list its company NetTest – a leading provider of systems and equipment for monitoring optical communications systems – on the American stock exchange Nasdaq. However, on the very day in February 2001 that the final decision was to be made, the basis for the listing collapsed as the dot-com bubble burst, sending share prices tumbling; halting the expansion of global Internet infrastructure; and bankrupting ICT companies around the world.
The stock exchange listing was postponed and finally cancelled, and NetTest was sold to a Danish capital fund for one kroner (13 US cents).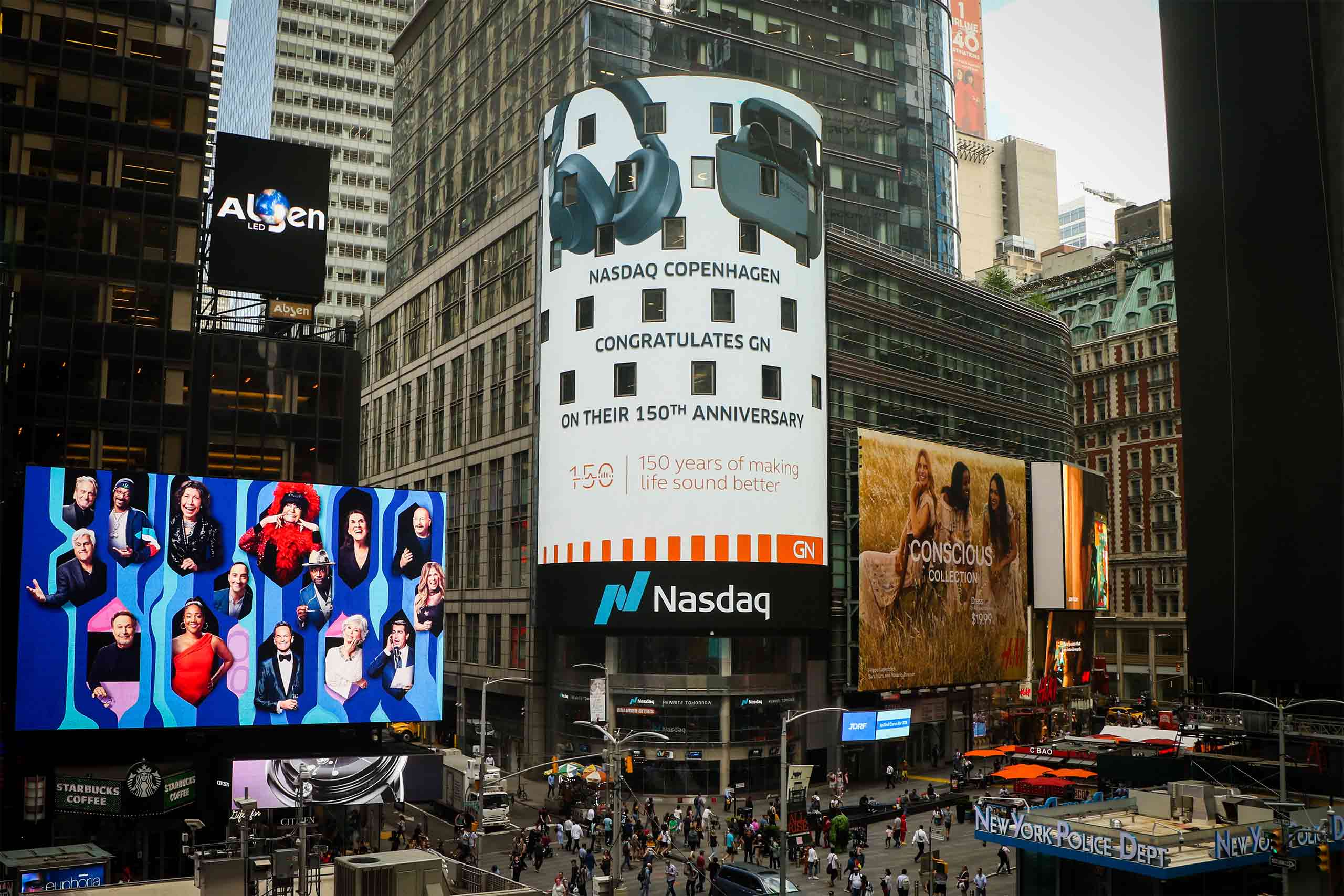 The Nasdaq exchange in New York celebrated GN's 150 year anniversary in May 2019, but things have not always been so rosy

"GN's bloody turnaround"
"GN's bloody turnaround" was the headline of Danish Berlingske magazine's 2005 article profiling GN's rebirth under the leadership of CEO Jørn Kildegaard, through restructuring and streamlining operations. The article compared the CEO's daring to GN's founder C.F. Tietgen, whose risk-taking in sending cable ships to East Asia in 1870 had paid off in great success for the company.
When ReSound met the Swiss… things got complicated
However, the growth was not enough for some shareholders, who demanded more, particularly from GN's hearing aid division. As inconceivable as it may be today, in 2006 GN agreed to sell its hearing aid business to a Swiss a competitor. However, the following year the German competition authority blocked the sale (a decision which, several years later, was deemed unlawful). When the 2008 global financial crisis hit, GN's headset division's key market – call centers and offices – suffered as sales in the financial sector froze.
Breakthrough with 2.4GHz technology
The big breakthrough came in 2010 with the introduction of the world's first high quality sound streaming for hearing aids using 2.4GHz technology. Read more in
Pushing the limits to become world first
[Article].
Hearing industry competitors had given up on 2.4GHz, but utilizing technology already used in GN's headsets, this giant leap established GN's position as a technology leader, putting GN, in the words of Chairman Per Wold-Olsen, "back on the growth track."
A legacy of risks and resilience
Back in July 2018, when Alexander Wildt Forrest, Mechanical Engineer, GN Hearing, was asked about his first impressions of working at GN, just two weeks into the job, it was this willingness to take risks that struck him.
"At GN everything seems very integrated together. You have top management in this building, just over in that building you have production and test facilities, and they're working right next to the engineers. It seems like the path from making an analysis to testing that prediction is very short. I get the sense there is a willingness to take some chances and pursue new and developing technologies," Alexander said.
GN Audio's acquisition of Altia Systems' PanaCast is one recent example of this, as is GN and Cochlear's partnership with Google to enable direct streaming from Android to hearing aids, and the list could go on.

GN's history has been far from smooth sailing, but this daring and determination has enabled the company to persevere and succeed for 150 years. The willingness to take risks and tread new paths has been an element in every chapter of the GN story, and will carry it boldly into the future.