Diversity, Equity and Inclusion
GN fundamentally believes that diverse leadership teams and a diverse organization are key to our success as an innovation leader and, thus, we welcome differences broadly. To stay relevant as a business we need access to all employees' competencies, creativity, engagement, and loyalty. We need the best talents, and we need diverse talents. Therefore, diversity, equity, and inclusion (DEI) are a strategic priority for GN.
Creating an equal playing field is a cornerstone to instill fair and just practices and policies that ensure all employees can thrive, be themselves, and exercise their full potential. To become a truly equitable employer, we embed inclusion and diversity in our people processes. As a company, we do not tolerate discrimination or harassment of any kind based on racial or ethnic characteristics, gender, religion, age, sexual orientation, disabilities, or any other classification as stated in GN's Ethics Guide.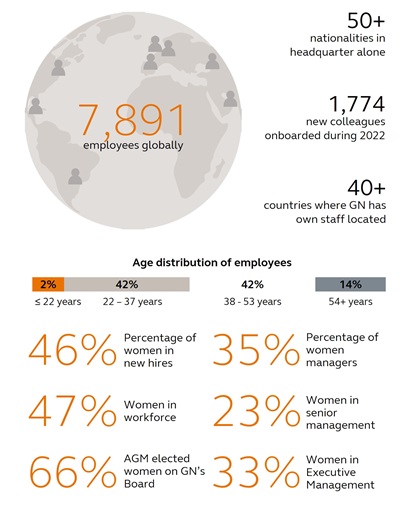 GN's Ethics Guide is available in 10 languages here