Meet Louise our Finance Graduate
Name: Louise Kragh-Jakobsen
Track and Graduate generation: Finance, 2019-2021
Education: M.Sc. Applied Economics and Finance, CBS
Nationality: Danish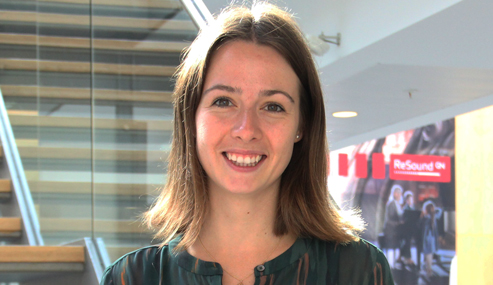 Why did you apply for the Graduate Program at GN?
I was very motivated to work in finance in a company that produces physical products, which create value for the end-customers in a way that is relatable for me. I think GN is a very good match in that sense. We utilize our knowledge to create good sound experiences in different situations in life, such as if you have a hearing loss and need a good hearing aid or the right equipment for the modern workplace. Personally, I have had the pleasure of working both in GN Hearing and GN Audio, which has given me a unique insight into two different industries. Furthermore, I like that the graduate program has 3 rotations, so you get to be 8 months in each rotation, and you have a rotation abroad to try to work in a different work environment.
What is your favorite thing about being a GN Graduate in GN?
My favorite thing about the graduate program is the network you get. You get to work with so many inspiring people and be part of a community with other young professionals. The fact that the graduate program consists of different tracks allowed me to get a better understanding of the value chain early on from my fellow graduate colleagues.