Meet Eleni our IT Graduate
Name: Eleni Panagopoulou
Track and Graduate generation: Global IT Graduate – Data & Analytics Track
Education: MSc International Business and Politics – Copenhagen Business School
Nationality: Cypriot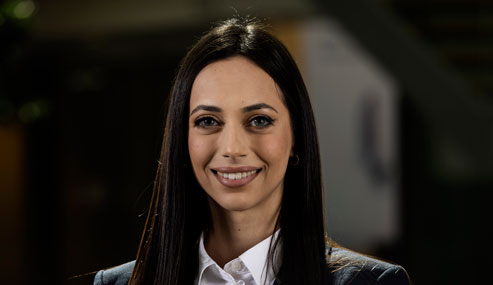 Why did you apply for the Graduate Program?
As any ambitious graduate, I wanted to make the best possible decision on where to start my professional career and put simply – GN ticked all the boxes.
I have studied BSc Economics with International Experience and MSc International Business and Politics with a Minor in Big Data Analytics – thus, my passion grew within analytical problem solving and how it applies to business. The Global IT - Data & Analytics Track reflected where I wanted to be and what I wanted to learn, requiring problem solving capabilities, combining both technical and soft skills, along with diversity of projects.
I got introduced to GN's Graduate Program and values at a career fair presentation at CBS. GN stood out from the rest as an organization with a purpose on improving people's lives and making an impact. Moreover, what intrigued me during the meet and greet event at CBS, was the demeanor of the graduates and culture embedded in the organization, where people strive to "listen, challenge and transform" – making it the best transition from an academic to a professional environment. Therefore, I applied to GN as I could really see myself working here.
What is your favorite thing about being a Graduate?
Being a Graduate has been a highly rewarding experience – making it hard to pinpoint a single favorite thing.
The Business Intelligence Services team where I am currently situated at, is without a doubt - an international dream team, collaborating with members in the Philippines, Poland, and Denmark. Our projects impact the whole organization, where I mainly work with the front-end team, providing Power BI solutions and building reports, which gives me the opportunity to work with diverse projects and communicate with higher management. I find it amazing how much trust and responsibility I am given as a graduate – such as preparing and facilitating an Introduction to Power BI Training course for all GN employees.
Furthermore, the graduate network itself is phenomenal. I believe GN choose graduates holistically based on our qualifications but also personality, because it feels as if we have been friends for years. We come from all around the globe, and it is great to learn about different cultures and experiences. We organize activities together with the previous graduates and meet throughout the week – in this way we also get to know what each of us are working on in their department and help each other when we can.
Lastly, the 8-month rotations are without a doubt one of my favorite things of being a graduate. I will be travelling to the US for my next rotation, more specifically to Cupertino in California. It will be a dream come true to work in Silicon Valley, being at the heart of technological innovation and having the opportunity to get hands on experience with Machine Learning and AI. The best part is - I will be travelling there with 3 other graduates from other departments, which will allow us to explore the US and have the most fun abroad.