SteelSeries introduces the Apex Pro Mini and Apex Pro Mini wireless keyboards
GN News
Jun 20, 2022
- The new 60% compact design and the world's fastest and most adjustable switches the Apex Pro Mini is the only keyboard you'll ever need
- The Apex Pro Mini is the first wireless keyboard to win a CS:GO tournament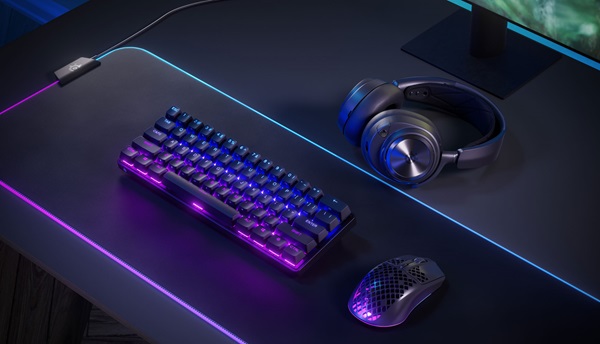 SteelSeries, the worldwide leader in gaming and esports peripherals, today announced the launch of its newest innovations and additions to the award-winning Apex line of keyboards. Smaller, faster, and highly adjustable, the Apex Pro Mini and Apex Pro Mini Wireless give credence to the phrase "Mini is Mighty." The 60% form factor with OmniPoint 2.0 has an 11x faster response time, 10x faster actuation, and is 2x more durable than standard mechanical switches.
Launched in 2019, SteelSeries set out to provide gamers of all stripes more control over their keyboards, for all their use cases – gaming or other, with the Apex Pro, the most customizable keyboard on the planet with the world's fastest switches. The original OmniPoint switch introduced fully adjustable actuation, the biggest leap in gaming keyboard innovation since the creation of the first mechanical switches, which allowed users to adjust between deep throws and feather-light touches.
In addition to the compact form factor, come improvements on the fastest switches in the world. Now operating between 0.2mm and 3.8mm, the OmniPoint 2.0 switch gives users faster response and actuation times, along with even more adjustment potential than ever before. When adjusted to 0.2mm, the 0.54 ms response time offers the fastest keystrokes in the world*. Additionally, the introduction of OmniPoint 2.0 offers Dual Action keypresses, allowing users to program two actions with a single key to execute combos, such as walk and run, or pull out a grenade and throw it, all with one keypress.
Mini is mighty. For the first time, the fan-favorite and award-winning line of Apex keyboards offers a new more compact 60% design to free up desk space and allow for larger mouse movements, along with improved aesthetics, and more ergonomic positioning. With SteelSeries' innovative modifier key, full keyboard functionality is maintained in a smaller mini form factor – making the Apex Pro Mini keyboards the perfect size to fit within a backpack for on-the-go, esports tournaments, LAN parties, and those headed to their first dorm room or already enrolled in college.
Apex Pro Mini Wireless

– Combining OmniPoint 2.0, the world's fastest key switches, with a new smaller 60% form factor, the Apex Pro Mini Wireless allows gamers to take a high-performance keyboard with them on the go. Quantum 2.0 Wireless ensures lag-free gaming and working while offering dual connectivity, so users can switch between 2.4Ghz Gaming Grade Wireless and Bluetooth connectivity wherever they go. Rated at 100M keystrokes, the OmniPoint 2.0 switches need the right keycaps to match, and double shot PBT keycaps are the perfect pairing, delivering unrivaled durability so they last from the first press to the last.

On May 23, FaZe Karrigan became the first pro gamer to win a CS:GO major using a wireless keyboard (Apex Pro Mini Wireless).
Apex Pro Mini

– Utilizing the new OmniPoint 2.0 switches, the Apex Pro Mini allows users to adjust between 0.2mm and 3.8mm, switching between weightless actuation and deep deliberate presses. The 60% design allows for more desk space, ensuring that big mouse swings go uninterrupted while offering better ergonomics when working and playing. Double shot PBT keycaps ensure the keycaps last as long as the switches, while side printed key functions allow users full keyboard functionality in a small package.
Available at SteelSeries.com and retailers around the world, the Apex Pro Mini Wireless and Apex Pro Mini are available for the following MSRPs:
Apex Pro Mini

Wireless

–

US $239.99 | EU €279.99 | AP $279.99

Apex Pro Mini

– US $179.99 | EU €219.99 | AP $219.99
Digital assets are available at: https://steelseries.box.com/v/Apex-Pro-Mini
About SteelSeries
SteelSeries is the worldwide brand and innovation leader in gaming and esports peripherals focused on premium quality, innovation, and functionality. Founded in 2001, SteelSeries improves performance through first-to-market innovations and technologies that enable gamers to play harder, train longer, and rise to the challenge. SteelSeries is the pioneering supporter of esports and competitive gaming tournaments, connecting gamers and fostering a sense of community and purpose. SteelSeries' family of professional and gaming enthusiasts are the driving force behind the company and help influence, design, and craft every single accessory and the brand's software ecosystem, SteelSeries GG. The SteelSeries family of brands includes KontrolFreek, the industry leader in high-performance controller accessories, and Nahimic, the leader in 3D sound solutions for gaming. In 2022 SteelSeries joined the GN family, a global leader in innovative and intelligent audio and video communications solutions sold in approximately 100 countries around the world. To learn more about the brand, visit steelseries.com and join the conversation on Twitter at @SteelSeries and Instagram at @SteelSeries.
Media Contact:
Paul Murphy
paul.murphy@steelseries.com
+1 (971) 284-7984