SteelSeries unveils the future of gaming microphones
GN News
Oct 03, 2023
SteelSeries presents the alias series mics powered by Sonar.
Gaming just found its voice with the first microphone purpose-built for gamers
SteelSeries' Alias line of microphones powered by Sonar for Streamers creates and delivers the ultimate streaming experience
SteelSeries, the worldwide leader in gaming and esports peripherals, today unveiled its newest franchise and the first microphone solution that's been purposely built for gamers. With over 20 years of design and engineering expertise dedicated to solving problems for gamers and making every gaming session glorious, the #1 premium gaming audio brand introduces Alias microphones powered by Sonar for Streamers. Now "Gamers Finally Have a Voice."
When gamers stream, they get animated, move around their gaming setups and battlestations, shout with unbridled excitement and enthusiasm, narrate gameplay, and tell stories with style and personality. The current offering of microphones on the market does not address these needs and doesn't allow users to be dynamic, while Alias microphones allow for the freedom and true range that gamers seek. Others have introduced microphone solutions that are 4-in-1, but they are a master of none.
Streaming while simultaneously producing ain't easy. News anchors can focus on their broadcast because they have an entire crew to produce it. But streamers usually go at it alone. Three years in the making, SteelSeries challenged the status quo to design a solution for this pain point, creating the ultimate microphone system for gamers and streamers that makes it easier to simultaneously produce and stream. This one-two punch of hardware plus software allows streamers to sound like a pro without being a pro. Now any gamer can sound like they're in a professional studio, just like their favorite pro streamers and content creators.
"For many, gaming isn't just a pastime, it's a passion and a lifestyle, so having the very best peripherals fills a need to make the experience amazing every time," said Ehtisham Rabbani, SteelSeries CEO. "For decades, SteelSeries has been as passionate about bringing innovative, best-in-class products to the market as gamers are about gaming itself. With the launch of our Alias microphones powered by Sonar for Streamers, we are empowering current gamers, streamers, and content creators, and enabling future generations to create great streams and content for years to come."
Bigger sounds better. Alias microphones powered by Sonar for Streamers feature a custom-built 1" condenser capsule that's 3x the size of standard microphone capsules to flawlessly capture each gamer's voice, while a finely tuned cardioid capsule pattern minimizes background noise with a bubble-like capture area. This equates to a sound pattern used in broadcast and recording studios and is the optimal solution for accurate and impactful vocals -- and the only one needed for streaming. Add a custom-built shock mount that absorbs vibrations and allows gamers to get animated during their streams and the sum of the parts is a sleek, streamlined microphone chassis specifically designed for gamers.
To power the Alias microphone chassis, SteelSeries developed a high-performance turbo engine known as Sonar for Streamers. This free studio-grade software suite provides gamers with an all-in-one sound studio and delivers everything a streamer needs for audio high-quality production. Streamers can utilize an independent 10-band Parametric EQ with broadcast presets for deeper vocals, audio routing, precision tuning, and mixing, and ClearCast AI noise cancellation to make even the noisiest room sound like a recording studio. Pro software mixing tools like the Compressor and Limiter remove the need for additional audio programs or plugins. Sonar is compatible with standard video broadcasting software (OBS, Streamlabs, etc.) and uses CPU rather than GPU processing to avoid frame rate drops.
By fusing these two entities (Alias microphones and Sonar for Streamers), the ultimate broadcast quality, clarity, and control come together to raise the bar for gamers and their streams. The Alias series of mics powered by Sonar for Streamers is available in two options:
Alias – Sound Quality and Versatility Combined.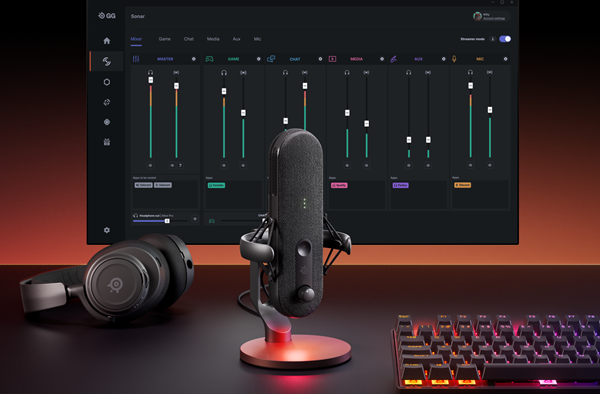 The days of off-the-shelf generic mics that have been rebranded for gaming are over. It's finally here -- a microphone fully dedicated to gaming and streaming.
The Alias powered by Sonar for Streamers is the first microphone designed from the ground up specifically for gamers to sound like a professional with a 24bit/48kHz broadcast-quality microphone that picks up every detail of a gamer's voice with extreme accuracy. Instantly upgrade streams and content with pure, powerful audio delivery to draw in the audience. To keep gamers informed on the fly, the Alias microphone displays mic peak level information with a 5-stage LED indicator which switches to a prominent red "X" when streamers are muted. Real-time mic monitoring is also possible using wired headphones and the built-in RGB downlight and 5-stage LED offers 16.8M RGB colors to personalize the streaming setup. It's as easy as Plug & Say by connecting Alias to a PC with USB. Gamers can conveniently control input gain, mute, and headphone volume, and plug in a Nova series headset with a 3.5mm cable.
Alias Pro – The Ultimate Streaming Microphone for Gamers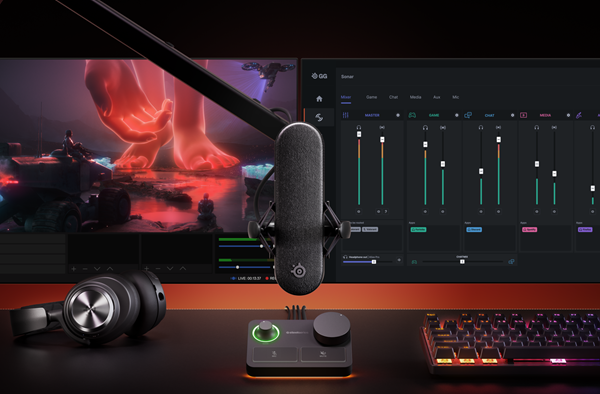 The Alias Pro powered by Sonar for Streamers is a broadcast-quality XLR microphone that picks up every detail of a user's voice with extreme accuracy, while the balanced XLR system with pre-amplifier and 48V phantom power reduces noise and interference to deliver pure and powerful 24bit/48kHz audio. Gamers can supercharge their production skills with the XLR Stream Mixer, a professional-level command station, that brings XLR amplification and audio mixing controls to any PC. SteelSeries introduces yet another first in gaming with an innovative StreamMixer that utilizes two USB ports with Sonar Software to support optional dual PC streaming for content creators. To allow for easy mixing, the Alias Pro features Drag 'n' Drop Audio Routing, where streamers can route and mix up to five audio channels and adjust them individually to craft the perfect experience for their audience. Gamers need fast and easy access to controls and essential audio adjustments like mic gain and mute are at the user's fingertips. Streamers can also customize dial and button assignments to mix or mute specific audio channels and monitor levels and mute status with custom-designed LED indicators while staying focused on the stream. The gain dial lights up from green to red to monitor your input levels while ambient RGB lighting complements the setup.
Gamers no longer have to settle for generic mics. Available at SteelSeries.com and retailers around the world.
About SteelSeries
SteelSeries is the original esports brand that fuses gaming & culture, leading the way in defining a "gaming lifestyle." The worldwide brand creates industry-defining esports and gaming peripherals with a focus on premium quality, innovation, and functionality. Founded in 2001, SteelSeries improves performance through first-to-market innovations and technologies that enable gamers to play harder, train longer, and rise to the challenge. SteelSeries is the pioneering supporter of esports and competitive gaming tournaments, connecting gamers and fostering a sense of community and purpose. SteelSeries' family of professional and gaming enthusiasts are the driving force behind the company and help influence, design, and craft every single accessory and the brand's software ecosystem (SteelSeries GG, Moments video clip service, and the Sonar Audio Software Suite). The SteelSeries family of brands includes KontrolFreek, the industry leader in high-performance controller accessories, and Nahimic, the leader in 3D sound solutions for gaming. In 2022 SteelSeries joined the GN family, a global leader in innovative and intelligent audio and video communications solutions sold in approximately 100 countries around the world. For more information, visit steelseries.com and join the conversation on Twitter at @SteelSeries and Instagram at @SteelSeries.