FalCom introduces next-generation hearing protection and communications system for the data-enabled soldier
GN News
Jan 17, 2023
World-class active hearing protection and communications solution

Use as a stand-alone hearing protector, or as part of a full soldier communication system

Audio, data, and power capable with the most intuitive user experience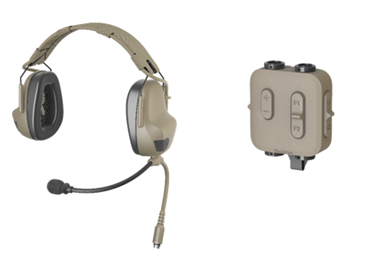 At SHOT Show in Las Vegas, the largest professional event for the sport shooting, hunting, and outdoor industry, FalCom unveils the next-generation hearing protection and communications system for the data-enabled soldier. With a sleek and modern design, the FalCom solution boasts built-in audio, data, and power capabilities, as well as numerous additional features and capabilities. FalCom is part of the GN Group, a global leader in technology driven hearing, audio, and collaboration solutions.
Mark Orton, CEO of FalCom: "FalCom Pods Pro is a state-of-the-art active hearing protection and communications headset. It represents a new way of equipping a soldier with a headset communication system designed with the user in mind from the start. We are confident that the new capabilities will greatly benefit the modern soldier and establish FalCom as the preferred solution on the market."
The Pods Pro builds upon FalCom's legacy of offering world-class hearing protection and sound localization, adding data routing capability from the head to the torso via a single cable. It can be used as a stand-alone hearing protector, or as a part of a full soldier communication system.
First of its kind
FalCom Hub is an advanced multi-com control unit and the first of its kind to be Audio, Data, and Power (ADP) enabled. It provides the most intuitive user experience and is designed to interface with the broad range of devices required by the modern soldier. The Hub offers true left/right separation for optimal ease-of-use and with FalCom's best-in-class Push-To-Talk and volume buttons, the user can control all connected devices.
The next generation system addresses a major pain point in today's soldier setups and the ever-growing need for wired devices; the system removes the cable mess and allows the user to streamline the cable routing between equipment.
Visit FalCom in booth 40732 at the Venetian Expo Level 1, Las Vegas.
For more details on FalCom, please contact:
Morten Rishoej, Senior Marketing Manager
mrishoej@falcom.net
Other contacts:
Investors and analysts
Anne Sofie Staunsbæk Veyhe
Vice President – Investor Relations, Treasury and M&A
Tel: +45 45 75 85 06
or
Rune Sandager
Senior Director – Investor Relations
Tel: +45 45 75 92 57
GN media contact
Steen Frentz Laursen
Vice President – Group Communication
Tel: +45 20 65 34 20
About FalCom
Built on 150 years of innovation, FalCom stands on the GN Group's foundation as a global leader within technology driven enhancement of vital human senses. With outset in GN's cutting-edge technologies and its Scandinavian design heritage, FalCom provides integrated sensory reception, hearing protection, and communication solutions for special operations, military, law enforcement and security personnel who all depend on optimal perception in extreme environments. Visit FalCom.net and connect with us on LinkedIn and Instagram.
About GN Group
The GN Group enables people to Hear More, Do More and Be More through its intelligent hearing, audio, and video collaboration solutions. Inspired by people and driven by our innovation leadership, we leverage technological synergies between our hearing, audio, and video divisions to deliver unique and increasingly individualized user experiences in our products and solutions.
150 years ago, GN was founded with a truly innovative and global mindset. Today, we honor that legacy with world-leading expertise in the human ear, sound and video processing, wireless technology, miniaturization, and collaborations with leading technology partners. GN's solutions are marketed by the brands ReSound, Beltone, Interton, Jabra, BlueParrott, SteelSeries and FalCom in 100 countries. Founded in 1869, the GN Group employs 8,000 people and is listed on Nasdaq Copenhagen (GN.CO). Visit GN.com and connect with us on LinkedIn and Facebook.