Jabra introduces unique AI software for improving customer and agent experience in contact centres
GN News
Sep 14, 2022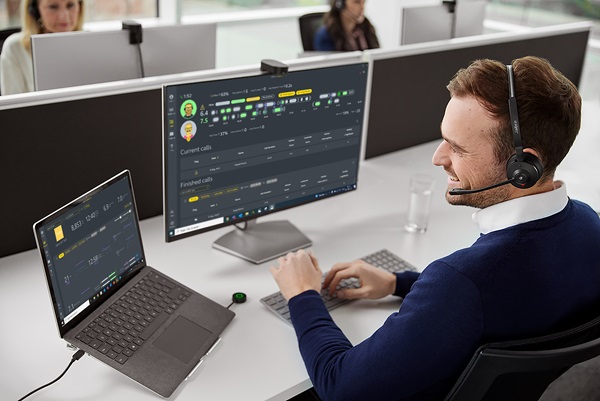 Jabra Engage AI utilises powerful AI technology to provide real-time feedback uniquely based on the power of human tone

The solution offers an integrated tool that supports agent skill development and performance evaluation
Jabra, a leader in personal sound, video and office solutions, is launching a new Software-as-a-Service (SaaS) solution, Engage AI. Engineered to transform contact centre call experiences, the solution employs Artificial Intelligence (AI) technology that provides real-time insights to improve customer calls and support employee wellbeing.
The launch comes on the back of Jabra's findings on how 76% of customers who contact customer service do so over the phone and how voice interaction remains the preferred channel for customers. With customer experience being a key performance indicator for businesses, Engage AI is built to journey with agents to improve customer satisfaction through monitoring elements like tone of voice.
Using real-time insights to transform call experiences
Engage AI assesses both the caller and agents' conversation and levels of engagement. The solution, which works well with most contact centre systems, provides an instant measurement of the customer experience and live coaching on how to manage the given situation. When agents deliver a friendly and energetic voice, it demonstrably improves customer satisfaction and conversion rates, and reduces call length, thereby saving costs.
Such real-time insights allow agents to adjust their approach during calls immediately to better suit the caller's needs as well as post-call in the form of engagement scores to understand areas of improvement. The engagement score and data can also be integrated into existing analytics platforms via API.
Bringing teams together with upskilling opportunities
The SaaS solution comes with tools to support skill development and improve team management. Contact centre agents can get access to self-coaching assessments and performance evaluations which are strength-based, inclusive and personalised for each agent and team.
Contact centre supervisors can also gain instantaneous actionable insights into their team's performance to further improve customer experience on an individual and team level. On top of receiving real-time updates on praiseworthy and coachable moments, supervisors can use the platform to monitor employee wellbeing based on real-time event updates and dashboards with call analytics and data.
"Our partners in the contact centre space are obsessed with their customers and are constantly seeking ways to enhance the customer experience. At Jabra, we believe in getting it right from the first second and see the value in improving conversation qualities," said Anders Hvelplund, SVP for Call Centric Solutions at Jabra. "Engage AI has cracked the code of human sentiment, enabling agents to react instantly and be the best version of themselves. We are also keen to use the platform to bring supervisors and agents closer together in this era of remote working and create more opportunities for coaching.
The AI model is based on over 20 years of research and millions of analysed conversations by the world's most prolific voice AI scientists at audEERING, a Munich-based technology operation.
Jabra Engage AI is easy to implement as it works across all dialects and languages. It is ideal with Jabra Engage headsets, which enable additional features such as measuring background noise, but works well with all professional headsets.
Jabra Engage AI will be available from September 15. Find out more here: www.jabra.com/engageai
PR contact
Claus Fonnesbech
Senior Director, Global PR & Communications, Jabra
cfonnesbech@jabra.com
+45 2588 4107
About Jabra
Jabra is a world leading brand in audio, video, and collaboration solutions – engineered to empower consumers and businesses. Proudly part of the GN Group, we are committed to letting people hear more, do more, and be more than they ever thought possible. Jabra engineering excellence leads the way, building on 150 years of pioneering work within GN. This allows us to create integrated tools for contact centers, offices, and collaboration that help professionals work more productively from anywhere; and true wireless headphones and earbuds that let consumers better enjoy calls, music, and media. GN, founded in 1869, operates in 100 countries and delivers innovation, reliability, and ease of use. GN employs more than 7,000 people and in 2021 reported annual revenue of DKK 15.8bn. GN Audio accounts for DKK 10.4bn. GN makes life sound better and is Nasdaq Copenhagen listed. www.jabra.com
© 2022 GN Audio A/S. All rights reserved. Jabra® is a registered trademark of GN Audio A/S. All other trademarks included herein are the property of their respective owners (design and specifications are subject to change without notice).