Mathias found a secret GN story in his new family
GN News
Aug 25, 2017
Sometimes history repeats itself. Mathias Krylborn, student assistant at Beltone, has come across just that. After he joined GN, he found out that his wife's great great grandfather, Svend Petersen, had also worked for GN back when it was called Store Nordiske Telegrafselskab (Great Northern Telegraph Company).

Mathias Krylborn and his in-laws have been kind enough to allow us to share the life story of diver Svend Petersen (1847-1935). Thus, we dive into a story that takes us back to the very beginning of GN's incredible history.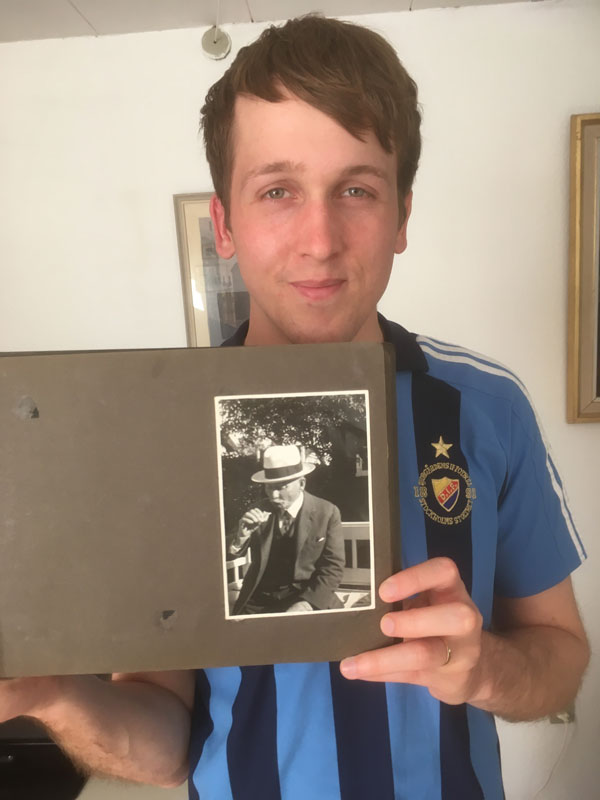 The story takes place around the very first years of GN. In 1869, the Great Northern Telegraph Company was established. In the period that Svend Petersen worked for Great Northern Telegraph Company, the company among other landed the very first submarine cable in Hong Kong. Later, this enabled GN to lay the first telegraphic connection between Hong Kong and Shanghai and from Northern Europe via Siberia to Japan and Hong Kong. The story goes:
"I recently discovered a story in my wife's family which related to GN. Svend Petersen was born in Hornbæk, Denmark, in 1847 to a fisher's family. When he was to serve his military duty, he joined the navy where he became a certified diver," says Mathias Krylborn and continues:
"His parents died in 1864 and 1870 so he had no family ties at this point. With no family ties, he got work for the Great Nordic Telegraph Company as a diver where he was to participate in the establishment of the first underwater telegraph cable between China, Japan and Russia."
Things were going well for Svend Petersen for a long time in GN. However after a while he was involved in a work accident where he got decompression sickness. It was serious and he became unfit for work. Luckily, the company had a good insurance policy so Svend was rewarded a large compensation. Svend returned to Hornbæk where he built himself a house. After a while he recovered completely. With some money left over, he built himself a little sailing ship. Now he was able to provide for himself and his family by freighting fruit and other goods from Nordsjælland (the northern part of Sjælland) around Helsingør and down to Copenhagen.
"He was married in 1879 and they got 7 children. One grandchild (my wife's grandmother) who was born in 1916 has told that she as a little girl visited her grandfather when he arrived at the harbor in Copenhagen. This means that Svend kept working until he had reached his mid-seventies. Svend Petersen died at 88 at Esbønderup Hospital after a long life in Hornbæk," says Mathias Krylborn.
In the church book Svend Petersen is described as a 'former diver and person of independent means'.
As Store Nordiske Telegrafselskab was founded in 1869 and the cables between China, Japan and Russia were fully established in 1872, Svend Petersen was likely one of the very first employees of the GN we know today. Mathias Krylborn is not directly related to Svend Petersen but is married into the family. His wife is a direct descendant of Svend Petersen. Likewise, Mathias' brother in law has also worked at GN. Will the tradition continue?
About GN Group
GN Group is a global leader in intelligent audio solutions that let you hear more, do more and be more than you ever thought possible.
We transform lives through the power of sound: Smart Hearing aids that enhances the lives of people with hearing loss; integrated headset and communications solutions that assist professionals in all types of businesses to be more productive; wireless headsets and earbuds designed to support any lifestyle – from sports enthusiasts to commuters and office workers.
With world leading expertise in the human ear, sound, wireless technology and miniaturization, GN's innovative and intelligent audio solutions are marketed by the brands Jabra, ReSound, Beltone and Interton in more than 90 countries across the world. Founded in 1869, the GN Group today has more than 5,000 employees and is listed on Nasdaq Copenhagen (GN.CO).